Announcing DunDDD 2013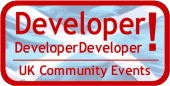 Scottish Developers are pleased to announce that DunDDD 2013 will take place on Saturday 23rd November in the Queen Mother Building of the University of Dundee.
This will be the 3rd DunDDD built on the popular foundation of the Developer! Developer! Developer! conference series which has spread to all corners of the UK and the international arena.  DDD conferences are community-run days where passionate and enthusiastic people come together to learn, share ideas, and to network within the many hubs of the development community. Best of all DDD events are free to everyone.
This year DunDDD will be featuring an entire track dedicated to Data Science.
Call for speakers
We are looking for sessions relating to all aspects of development from the code and technology level through to methodology and theory. DDD conferences are about sharing experience regardless of skill level so even if you have never spoken publicly before, are still studying at college or university and if you feel you have something to say, we would love to hear from you.
Sessions should be no more than an hour in length. Although we do recommend that you plan for at least 10 minutes of questions or discussion.
You can submit your sessions through our website at http://dun.dddscotland.com. Please feel free to submit more than one as we would love to see a wide variety of topics.
For more information as well as further updates, keep an eye on our blog or follow us on twitter - https://twitter.com/scottishdevs