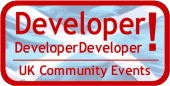 We are pleased to announce that registration for this year's DunDDD event on the 23rd of November at the University of Dundee is now open. You can register for your FREE place at http://dun.dddscotland.com/registration
Session submission will close at 23:59 on Sunday 13th October so get your last minute submissions in!
All selected speakers will be contacted on Monday with confirmation and details.