DDD Scotland 2011 - Alternative Track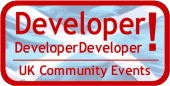 This year, DDD Scotland has more rooms available and that has allowed us a larger number of delegates through the doors and of course more sessions. We spent a bit of time thinking about what we wanted to do with the 6th and final room. We could have packed in even more stand-alone sessions but we figured, you have so many of them to choose from, why not do something different?
The "Alt" track is a collection of sessions that offer something different which focus on interaction between delegates, sharing of ideas and experiences and a chance to find answers to questions the other sessions just don't cover. In other words, Track F is proud to be different!
The now complete agenda can be found at
http://www.developerdeveloperdeveloper.com/scotland2011/Schedule.aspx
The agenda for "Alt" Track F is as follows
9:30: Professional Development
(Open Discussion)
An open discussion about how developers can be professional inside the constraints of management or environment. Examples of questions for this discussion could be
What obstacles do developers feel they face in regards to adoption of technologies and techniques?
How have these been overcome?
How can productivity and morale be improved or maintained?
10:40: Agile is Dead
(Open Discussion)
Based on a discussion at QCon around the 10th anniversary of Agile and whether or not "Agile" actually means anything anymore. This discussion opens the floor to delegates to chat about the current state of Agile in software development.
12:00: How To Manage Your Manager
(Mark Rendle)
Developers and managers generally don't understand each other. Developers know the arcane languages of machines and are motivated by inexplicable forces. Managers seem to spend half their time in meetings and the other half emailing each other Word documents and Excel spreadsheets. The result is that both sides end up frustrated, feeling that the other is stopping them from doing their job to the best of their ability.
In this talk, Mark will share some of the things he has learned in 20 years of being managed, including:
How to get the PC you want, with the two big monitors and a decent CPU.
Also, how to get extra software, training, and even sent to conferences.
How to adopt best practices, like TDD, pairing and daily stand-ups even though your manager doesn't know what they are, and probably doesn't care.
How to earn the respect of people who seem to actively like wearing suits.
Maybe, possibly, how to respect them just a little bit.
14:30: Beyond Hackdays/Weekends: Finding Problems To Solve
(Glen Mehn)
Social Innovation camp is a Launchpad and Accelerator for web- and mobile-based social ventures. In this interactive session, we'll talk a little bit about how Social Innovation Camps work, and work through one of our "itch workshops", which is a slightly different & useful way to think about problems and iterate towards solutions.
15:40: Ask The Speakers
(Panel Discussion)
A panel of speakers will be taking questions from delegates on any software development related subject that happens to be up for discussion.